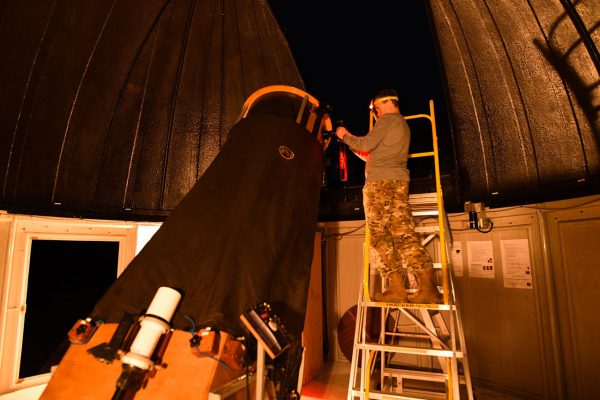 This 2018/9 viewing season, the POVG has made an exciting addition to its public viewing telescope line-up: a Dobsonian-mounted Newtonian reflector with a large 30″ (76cm) f/4 primary mirror, made by the highly-regarded Obsession company in the USA. Its mirror, one of the largest in use for public viewing in Australia, gathers nearly four times at much light as the next largest telescope at the Observatory, promising more detailed views of dark sky objects and planets than before, and possibly add more objects to the viewing program.
The telescope was originally acquired in 2007, along with several Nagler eyepieces, accessories and a custom trailer to transport it. Due to its large bulk and requiring two people to operate it efficiently, it was used only intermittently over the following years, including at Perth Astrofest in 2017.
Finally, it was decided to move ahead with giving the telescope a permanent home at the Observatory. A new concrete pad with an electrical supply was added next to the main viewing area, and a dome with remote-operated rotation and shutter opening was assembled on it. The new dome was named the Jubilee Dome in honour of the 50th anniversary of the Perth Observatory opening at its current location at Bickley and was officially opened by Tony Simpson, then MLA for Darling Range, on the 29th of September 2016.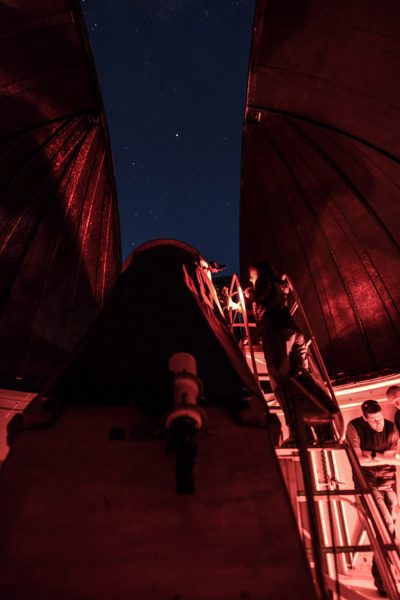 The girth of the telescope meant that it couldn't be brought in through the door: the mirror box had to be lowered in by crane! The telescope itself was then disassembled, cleaned and upgraded. The giant mirror was gently cleaned by some of the very experienced volunteers to remove years of accumulated dust. A fully automated GOTO and tracking system was installed so volunteers could spend more time interacting with the visitors and less time finding objects and adjusting the telescope tracking! Over the winter months of 2018, enough volunteers were trained in the use of the telescope so that it could be added to the 2018/19 tours.
All volunteers who have had the chance to look at some of our favourite targets through the new telescope have been impressed with the extra detail they see: more nebulosity in Orion and Tarantula Nebulas; subtle cloud bands on Saturn's surface and a crisp sharp Cassini division in Saturn's rings; details in the equatorial bands of Jupiter, and of course its Great Red Spot. The POVG is very excited to share this with the viewing public over the coming months.