Aboriginal Astronomy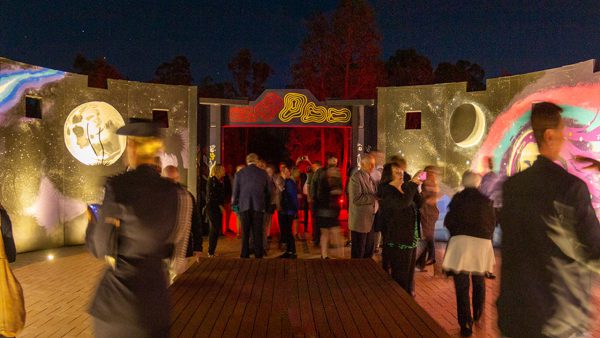 On a moonlit March night, we were privileged to witness the triumph of creativity, ingenuity and persistence to create a venue for the Western Australian Aboriginal community to celebrate and share their stories of the night sky. The ceremonial opening of Worl Wangkiny at Perth Observatory had all the right ingredients. Beside a campfire, under a full moon, with didgeridoo playing, elders, artists, advisors and volunteers welcomed guests from the community, cultural, heritage, science, tourism organisations – all in awe of the transformation that had occurred.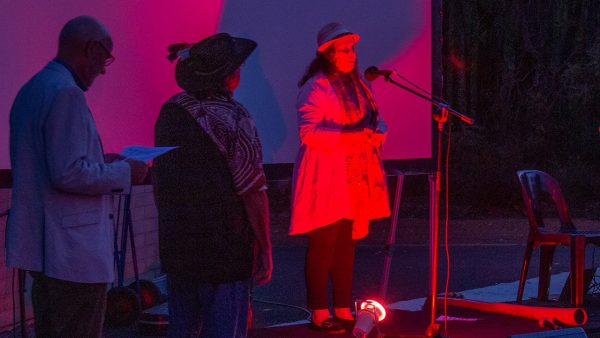 Our partially completed concrete telescope dome was now a lovely green beacon of light shining from within. A symbolic paved pathway from the 120-year-old Astrograph dome leads to Worl Wangkiny, where stories told and retold for tens of thousands of years will continue to live. Among the 150 guests at the opening were: WA Governor, Kim Beazley, Federal Ministers, Ken Wyatt and Linda Reynolds, and WA Minister for Science, Dave Kelly. Local representatives included WA Member for Kalamunda, Matthew Hughes and City of Kalamunda Mayor, Margaret Thomas.
Elders Vivienne and Morton Hansen gave the Welcome to Country, with opening remarks by Minister Kelly. Ken Wyatt, the Federal Minister for Indigenous Australians who has supported the project from the outset, delivered a moving Opening Address.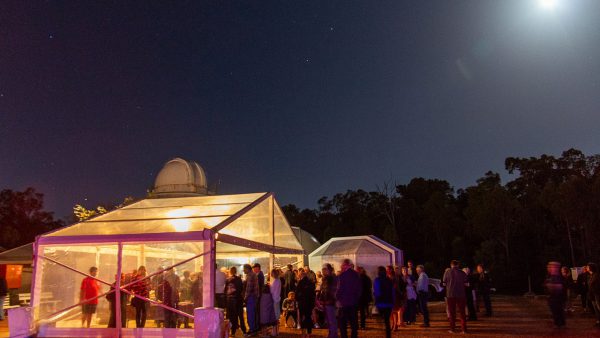 Minister Wyatt spoke of the scientific history of astronomy captured on the Observatory's 30,000 photographic plates, now preserved in digital format, alongside the parallel story of the cultural knowledge of Aboriginal people, captured in the artwork on the dome walls, to be proudly retold to a new generation of Aboriginal youth.
Following his address, the audience watched the premiere of the short documentary film about the creation of Worl Wangkiny, combining music, drone footage, interviews and time-lapse astrophotography of the night sky. As part of the experience of Worl Wangkiny, guests enjoyed a special menu created by Bindi Bindi Dreaming and original music, didgeridoo and chants by Phil Walleystack.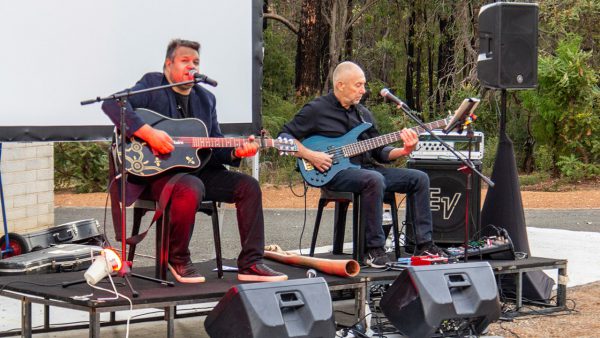 The City of Kalamunda and the Perth Airport Corporation supported the ceremonial opening. The Worl Wangkiny project would not have been possible without the funding support of Lotterywest and Rotary Kalamunda, the enthusiasm of the elders, artists and advisors, the donation of services by local businesses and the long hours and hard work of Perth Observatory volunteers and staff.
Stay tuned for details of guided tours with our partners Koya Aboriginal Corporation through ANTZ Aboriginal Nature TrekZ.