Boost For Our Stem Programs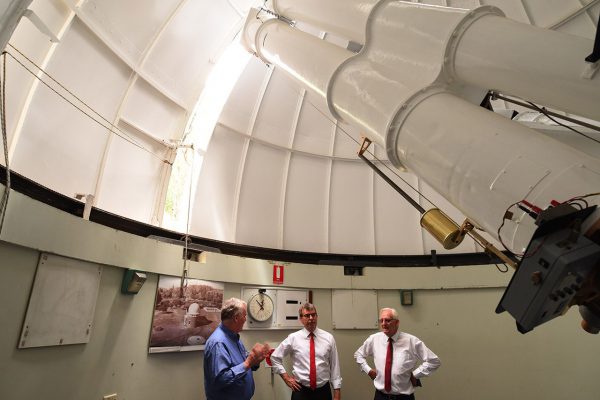 The WA state government has promised Perth Observatory $1.6m in funding.
Dave Kelly, Minister for Science, committed the McGowan Labour Government to give $400,000 each year to Western Australia's oldest observatory. Meeting Perth Observatory Volunteer Group members on-site in Bickley last month, Minister Kelly was joined by Matthew Hughes (Member for Kalamunda).
"While the volunteers do an amazing job, the lack of funding has stopped the observatory from reaching its potential," Hughes said, acknowledging the important work we do to inspire people, young and old, to take an interest in the night sky.
Commenting on the announcement, Colin Armstrong, POVG Chair, said the funding will be used for our general operations and expand our STEM education programs. "We're very grateful to the State Government for supporting Perth Observatory," Dr Armstrong said. "2020 was a difficult year, but with this funding, we can commit to doing even more for Western Australia — and sharing our love of the night sky."
Perth Observatory's funding is one of several similar commitments from the state government regarding investments in science and STEM. Minister Kelly shared that our friends at Gravity Discovery Centre and Observatory in Gingin will receive funding to expand their own STEM engagement activities.
A $500,000 investment is also promised for Curtin Uni's Binar CubeSat, the first integrated satellite bus to be fully designed and built in Australia. The satellite will enter low earth orbit well in advance of South Australia's SASAT1 satellite.
"The Binar CubeSat technology is set to become Australia's most validated spacecraft, boosting WA's burgeoning space industry," Minister Kelly said. Perth Observatory is located on crown land with infrastructure owned by the Western Australian State Government's Department of Biodiversity, Conservation and Attractions.
Since 2015, the Perth Observatory Volunteer Group has run the Observatory through an agreement with the DBCA.