Perth Observatory to embark on a new era of development to create a living museum of science and technology through Astronomy.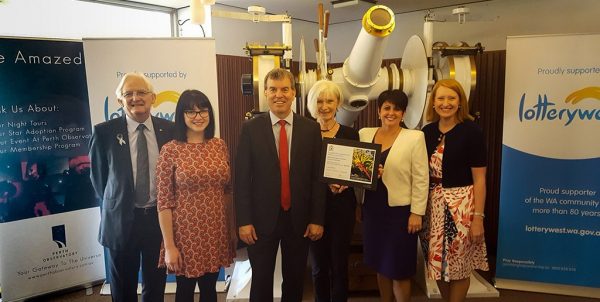 Chairperson, Diana Rosman thanked Lotterywest for their incredible support and said that the Perth Observatory at Bickley is now on track to become the premier astronomical experience in Australia.
"Under the guidance of our volunteer management committee, operations staff and 120 volunteers of all ages, across 10 interconnected development projects, the Observatory's heritage will be preserved, explained and shared. Heritage clocks that set WA time for most of the 20th century will be set in motion; thousands of glass photographic plates dating from 1900 will be digitised, saved and re-analysed; documents, letters and personal stories of scientific discoveries will be captured for posterity. If only the telescopes could speak!" Perth Observatory's Operations Manager added that alongside 120 years of scientific achievement, an Aboriginal Astronomy Centre will be created to acknowledge 60,000 years of celestial storytelling through art.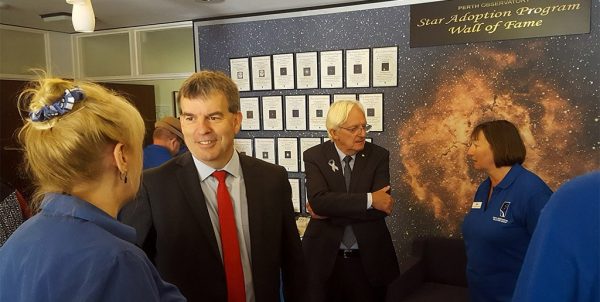 "This collaboration includes Follow the Dream high school students, emerging artists, Elders and local community group Rotary Kalamunda, with works to be led by internationally renowned Noongar Artists Peter Farmer Senior and Sharyn Egan. It will create a centre for us all to learn and appreciate what the night sky means to our first Australians". Throughout the site, history will come alive, access will be improved, and signage brought into the digital age. The volunteers' strategic vision for this iconic site can be realised at last.
The volunteers at the Perth Observatory are indeed grateful for the support of Lotterywest and the 10,000 visitors each year who come to their night sky tours, school day tours, special events and lectures.
The project is supported by Department of Biodiversity, Conservation and Attractions, the City of Kalamunda, Rotary Kalamunda and various Perth Hills community groups and businesses, showing they understand the power of Astronomy to inspire, enthral and unite.