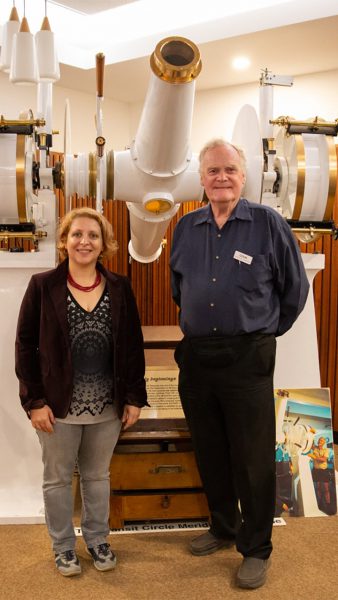 In November, at the end of Diana Rosman's maximum four-year term, I was elected as Chair of the Perth Observatory Volunteer Group. On behalf of us all, I extend our gratitude and appreciation to Diana for her stewardship. Diana now takes on other roles promoting the observatory, continuing her valuable contributions to POVG. After a week of fierce storms, the skies cleared in time for Astrofest 2020 in February, one of our biggest events of the year with more than 4,000 attendees crowding onto Curtin Uni oval.
48 POVG volunteers worked tirelessly to ensure the event was a success, and the POVG Shop at Astrofest sold more than $3,000 of our wares. A few days later, we hosted the first of three amazing events: Tim Finn's Star Navigator opera. 22 POVG and eight West Australian Opera volunteers cared for 150 people who sat entranced during the Captain Cook aria and applauded enthusiastically as the nighttime silence descended at its conclusion.
This fantastic event raised $7,355 in much-appreciated funds for the observatory.
The next night, Curtin Uni's planetary scientist Dr Katarina Miljkovic delivered our Summer Lecture, presenting her fascinating work with NASA's Mars InSight Mission. 23 volunteers looked after 131 visitors and raised $3,526 to help keep the observatory running.
Our final event was the opening of Worl Wangkiny, our fabulous new indigenous astronomy centre. 16 volunteers hosted 160 visitors, including Nyoongar Elders with family and friends.
The opening was generously supported by many dignitaries including the Governor of WA, Federal Minister for Defence, Federal Minister for Indigenous Australians, WA Minister for Science, Local Member of Parliament, the Mayor of Kalamunda, Director General, and staff from the Dept of Biodiversity, Conservation and Attractions.
A representative of Worl Wangkiny's project funders, Lotterywest, was also on hand to see the fruits of their investment.
Time stands still for no one. As summer begrudgingly wanes we start our Winter Night Tours. Coming up, we've some special events, including Star Wars Day, and our abseiling events are now even better — they also include stargazing or guided observatory tours on cloudy nights.
Due to the continued spread of COVID-19, and the risk of infection through the community WA, we are cancelling tours for March 20th – 22th and will be making a decision on upcoming events and tours after this weekend.
Matt Woods is also busy putting his expert skills and knowledge to work to plan and host virtual star parties live on YouTube. I hope to see you all at the Observatory soon — volunteers and visitors alike — when restrictions on gatherings are lifted. Please check the website and follow us on social media for updates on tours or events. Whether it's a sunny, school day tour or wrapped up warm for a night tour, we'll be glad to see you and we are grateful for your support.
Dr Colin Armstrong
POVG Chair