Close Encounters Series - A little chat with a very special person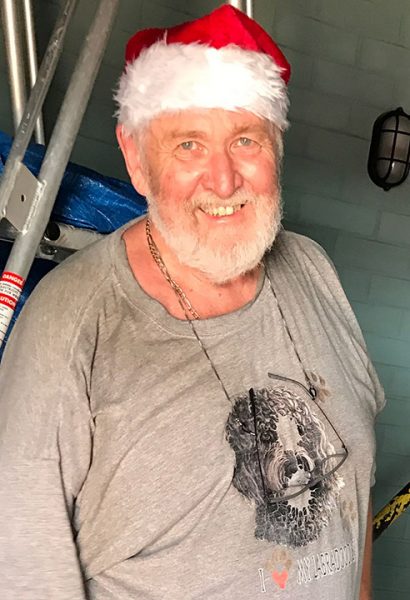 Who's tall, jolly, has a white beard and twinkly eyes and comes into the Perth Observatory when no one else is around to fix things and leave happy surprises for all the volunteers? Yep, you guessed it, Ken Stranger, our Facilities Coordinator! Whether you're naughty or nice, Ken always knows how to bring a smile to everyone's faces and leave goodwill in his wake. Instead of reindeer, Ken has his lovable Labradoodles Buddy and Cassie who are fortunate enough to go to work with him and almost be 24/7 companions.
Ken joined the POVG in 2014. Due to his technical nature and despite his self-confessed title of "Astronomical Numpty" he jumped into his Facilities position once the last of the paid staff left in the middle of 2015.
But what is "Facilities"?
In layman's terms, Ken takes care of the maintenance and management of all Night Sky Tour equipment in general, and assists Rob Kennedy as necessary with some of the "techo" bits of the domes etc.). His first "overwhelming" project was getting to know the Skynet telescope operation. Ken and Roger Groom combine to manage and maintain the RCOP telescope for Skynet operations.
If there is anything that needs fixing, who do we call? Ken of course!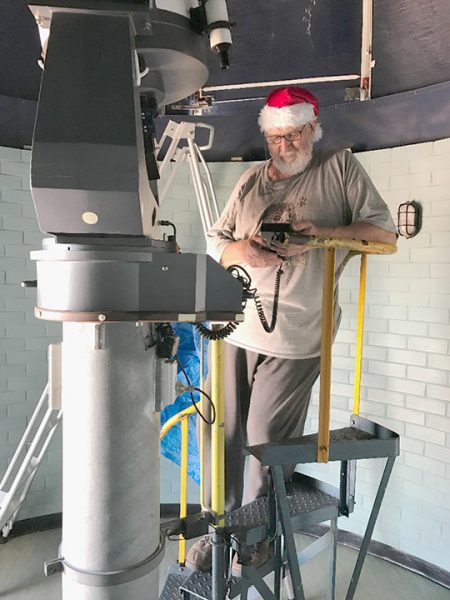 Ken developed his electronics background by working in the Postmaster General Department (PMG) as a Telecom Technical Officer in Training (TTOIT) – only the "ancient" will remember the PMG. He began with them before the PMG split into Australia Post and Telecom (I will not put a naughty comment here even though I'm sure we're all thinking of one!). He then went on to Telephone Exchange Maintenance and was part of the team testing the Wellington International Exchange in Perth which was fully computerised. This was his introduction to large scale mainframe computing. With a couple of other jobs in between, he then became the "Propeller Head" aka Technical Advisor and Support for his wife's new IT business "Perfect Computer Solutions". This company still exists and says Ken "I'm still trying to get away from it which is why I am here! 25 plus years now." He credits his success with working with his wife, Wyn, to them both having separate jobs in the business and him being away on site a lot. "I've been lucky" says Ken. "Our daughter Renessa has worked for us and now our son in law is one of our mainstays. It's a family business. We sacked Renessa once but had to take her back," he laughingly confides. Ken is also the grumpy old Grandad to Scott and Chris, more techies in training? And he loves the new four-legged addition to their family, Abbey.
Why did Ken volunteer at the POVG?
"It was almost accidental. I was trying to take a backseat in the business, reduce my workload and try find something different to do. I've always had an interest in Astronomy so looked up volunteer groups and found the POVG. They were asking for volunteers but the application time had passed, but I emailed anyway. Greg rang and organised an interview (with Vera on the day as it turned out). They were silly enough to give me a job. "I'm having fun. I enjoy it," says Ken. "I like this type of work, it is fairly autonomous, exercises the mind, and is flexible which suits me."
So, what is Ken's favourite thing to do?
"I love my M16 but everyone keeps trying to break it! I love the diversity of things to muck around with, to either fix or investigate stuff. It satisfies my technical passion. I AM a Tech-head and I get to look at the odd star AND I can find the moon through a telescope now – I'm good!" beams Ken. He adds that he is nowhere near where he'd like to be with Astronomy stuff, but,
"I want to know what we are part of. Everything is contained in something. Earth is part of a solar system which is part of a galaxy which is part of a universe which is part of what? The universe is expanding but into what? It frustrates and interests me about astronomy, we're like a speck of sand on earth to the rest of the universe – and no one has answered the question for me yet! "
Ken also spreads cheer as a volunteer at the WA Railway Museum in Bassendean. He used to drive past the museum a lot, so one day in March 2015 when looking for something new to do, he decided to look in. He was hooked! He has implemented their surveillance system and gets to play with the big locos. I think it must be very handy, after all who needs reindeer when you can use a steam train?
Ok, I have to ask: do you often get asked to play Santa at parties?
I get a lot of "suggestions" regarding Santa given I am older, fatter, and very white, but we are fairly "recluse" and parties are not really part of our life. Time at home with the two "four-legged brats" is far more precious.
And.. does Ken have any advice for new vollies?
"Read the BOG's! But mostly have fun. There's not much that you can break that we can't fix". "Now bugger off and let me get things done."
I think he wants me to get off his knee now…
A huge thanks to Santa Ken and to all the "unseen" volunteers/elves working tirelessly to keep the POVG running. You are all very much appreciated.