Astronomy Under Lockdown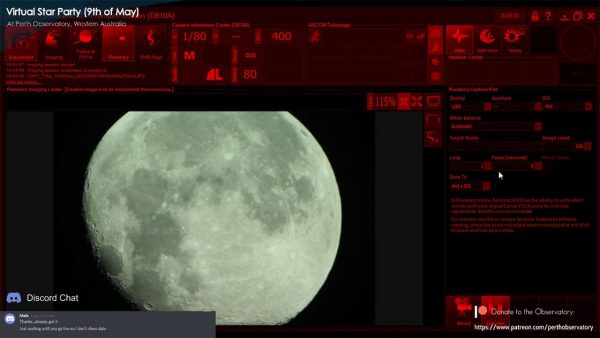 In March, Perth Observatory went into lockdown — and events were cancelled. Around Australia, astronomers were all wondering how to take the night sky live via the internet. POVG's Tour Administrator, Matt Woods, has long wished to run virtual events — and leapt at the chance to take Perth Observatory night sky tours online.
"I've wanted to do them since watching Fraser Cain from Universetoday.com run virtual star parties back in 2013-14, but I've never had the time to properly work it out," Matt says.
His original plan was live streaming through a telescope once a week, on Saturday nights. When the first two events were cloud-covered, Matt had to show images he'd taken earlier that week, in case of a cloudy night. Matt realised he had many astronomy presentations that would entertain Perth Observatory audiences — and started twice-weekly events.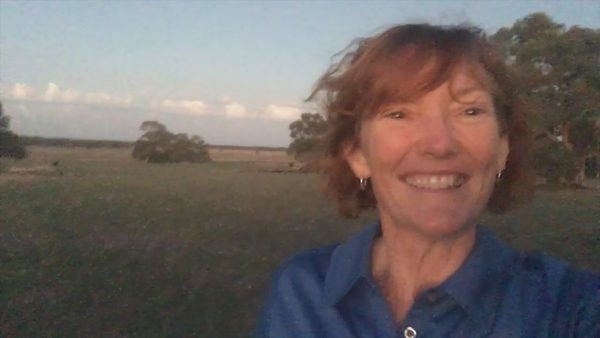 Stargazer's Club WA took their events onto Facebook Live. Carol Redford, club founder & CEO, says it didn't take her long to master using the platform. "There was a bit of research and time to figure out what I wanted to include" but that was all there was to it, Carol says.
Australia's astronomer-at-large, Fred Watson, presents the live weekly webinars Cosmic Relief. Fred says it's a big surprise people enjoy the webinars so much. "The presentations are stripped of fancy animations and movies to better cope with dodgy internet connections.
"But we've had some very nice messages from participants," he says. "There have been two other surprises: "it's interesting how quickly you get used to talking to yourself in front of a screen," Fred says "It's also been a great pleasure (though a bit daunting) to find astronomer colleagues among the participants."
Things aren't always easy though, even with virtual tours — it took Matt six live streams to get a clear night sky. How have people responded to virtual astronomy events?
I was surprised to see how popular the live streams were, especially at the start," Matt says. "It was great to see so many people join, it's amazing — some streams reached thousands of people…" Carol agrees, "There have been some great reactions," she says, "From 'Keep up the good work' to 'Easy listening.'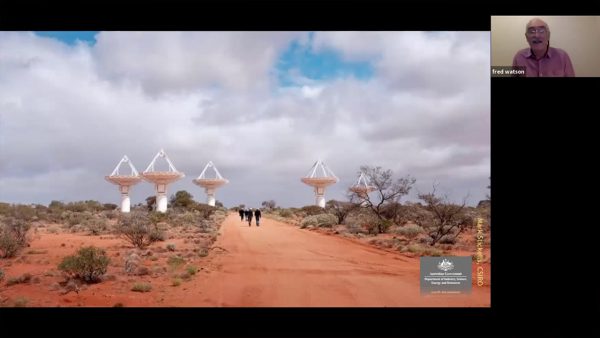 That's what I'm aiming for: an easy to understand and easy to participate experience under the stars." "[Our] numbers have been pretty constant," Fred says, "We recently kicked off the second series, for which we've had to introduce a small charge of $2 to cover Zoom costs. That has brought numbers down a bit, but with a higher uptake against bookings."
Fans of Stargazing WA's Facebook Live events will be pleased to know Carol plans to continue, them after a recent break. "I want to concentrate on producing a live broadcast when there's something special to see with the naked eye in the night sky," she says, "They will become a bit more random!" Even though the events have been "in lockdown" there have been some opportunities to travel, within reason.
"I got to go to the Central Wheatbelt, a POVG volunteer has a private observatory, for a live stream where we didn't have any light pollution," Matt says. "It's great to have someone able to join the live stream, as we can joke and share our knowledge on each target."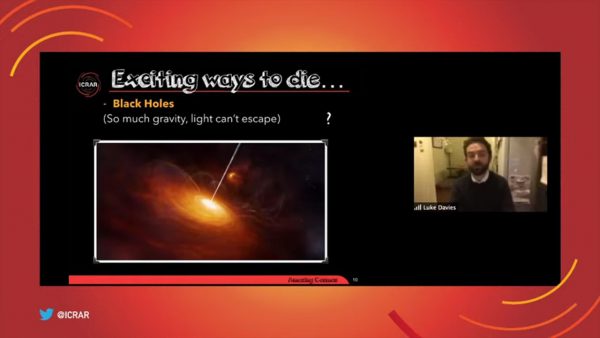 The International Centre for Radio Astronomy Research (ICRAR) started broadcasting live webinars in April, shortly after universities first moved into online learning. Their free, live online lectures continued every Wednesday, until June 10. Cass Rowles, ICRAR's Cosmic Communicator, said their YouTube channel subscribers have "more than doubled" since the lectures started — and the team enjoy interacting with their audience, as well as looking forward to new questions each week.
Livestreaming hasn't all been plain sailing. "In our second week, technology failed us, and we were unable to stream via Zoom as we had previously," Cass says. "Running late with a waiting audience, our speaker Kat Ross logged into our YouTube account and streamed directly from her home, showing her slides from her laptop screen." Stay tuned to ICRAR's YouTube: now and then, the team will have special topic lectures and encourage everyone to get in touch if there's an astronomy subject they want to hear about.
There are many ways you can take your astronomy interest forwards, from "armchair astronomy" to more hands-on approaches, and Perth Observatory's YouTube events will also continue a few times a month.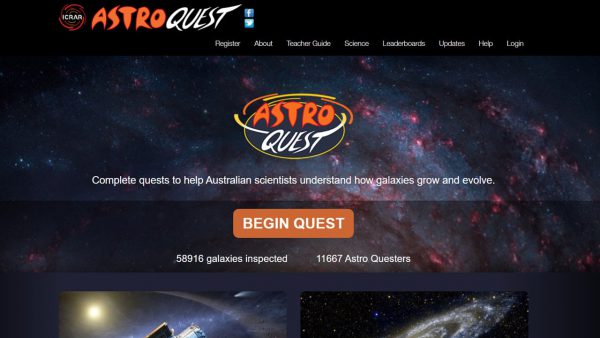 You can also get involved with a World Record Attempt tonight! Register online, answer five questions and use the app to map light pollution in your area. Another online activity is the free citizen science project, AstroQuest.
With just a computer and the internet, you get to complete "quests" helping scientists understand how galaxies grow and evolve while learning extra information about the galaxies you're inspecting.
Fred Watson also outlines various avenues for getting involved in astronomy in his first Cosmic Relief webinar episode, The Universe for Everyone, including getting involved with observatories. "Perth Observatory is a shining example of great public engagement!" Fred says — and I think we'd agree.