So you decide to leave Earth and start a new life in the "Homestead Colony" halfway across the Galaxy. You get your affairs in order, pay your money and prepare yourself for the longest nap of your life. As you drift off, you wonder what this new world will offer and what kind of life you will be able to make for yourself. Then you wake up to find that instead of the expected 120 years elapsing, only 30 years have gone by since you left Earth and the ship still has 90 years of travel left to go. On top of this, you were the only person woken up, there is no way to be put back to sleep and any message back to Earth will take decades to arrive. To top it all off, you were only able to afford the economy fare so are only able to access the economy food. This is the scenario Jim Preston (Chris Pratt) faces in the 2016 movie "Passengers". It is a scenario that has a great deal of promise, which unfortunately the movie that follows never quite lives up to. The long desolate visuals of the first half of the movie are intended I am sure to impart the feelings of loneliness and despair that Jim must be feeling, but instead just manage to be a little boring.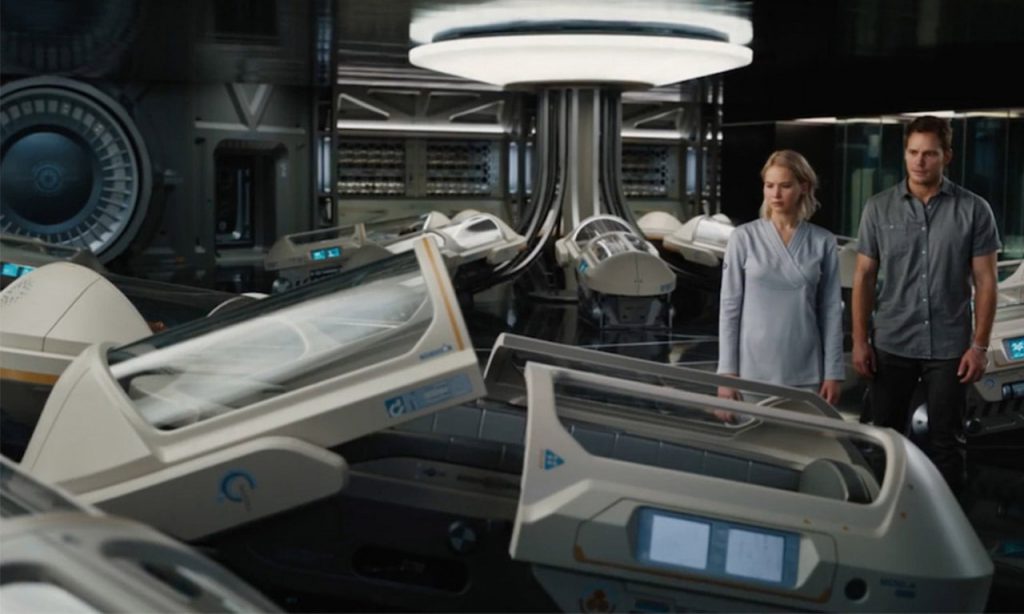 The movie has a not-too-subtle touch of Kubrik about it, especially regarding the visuals of the ship and the bar, yet this movie never really creates that sense of dread that "2001" and "The Shining" are famous for. The actions taken by the ever-increasingly desperate Jim are not really explored to a satisfying level either, leaving just a taste of what might have been.
As the other characters are introduced, the story develops into a rather predictable love story and a less predictable but equally cliche action story at the end. These provide some more interest and the second half of the movie certainly moves at a quicker pace than the first half, but you still end up feeling that this movie could have been so much more if approached differently. This is not a disaster of a film, there are some quite enjoyable passages, the visuals can be quite stunning at times and I like the fact that they didn't need to resort to using "space aliens" as a method of explaining the issues away. But likewise, this is not an instant classic by any stretch of the imagination. This film is best described as forgettable. It is pleasant to watch as long as you don't look too closely into the maths/physics on display, but it will not leave any lasting impressions.
| | |
| --- | --- |
| Starring: | Jennifer Lawrence, Chris Pratt, Michael Sheen and Laurence Fishburne |
| Stars: | 3/5 |
| Available on: | In cinemas now |