Donuts as beautiful as the night sky — and they're delicious too!
From tastemade.com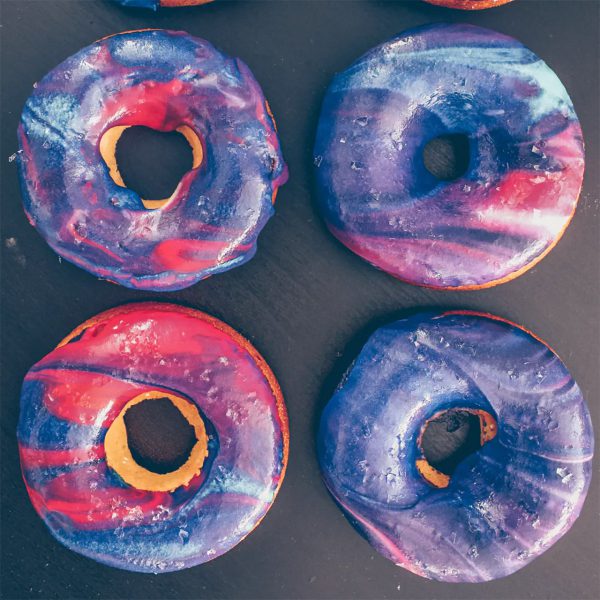 Ingredients
1/3 cup + 1 tablespoon milk
1 teaspoon white vinegar
3 tablespoons unsalted butter, melted
1 cup all-purpose flour
1 teaspoon baking powder
1/4 teaspoon salt
1/4 cup sugar 2 tablespoons honey
1 large egg
1/2 teaspoon vanilla extract
3 tablespoons whipping cream (plus a little extra, if needed)
1 teaspoon vanilla extract
1 cup confectioner's sugar
Pink, purple and blue food colouring
Edible glitter
Instructions
Combine the milk and vinegar in a small bowl. Place in the fridge for 15 minutes to chill – this makes homemade buttermilk!
Whisk together the flour, baking powder and salt in a small bowl and set aside. In a large bowl, combine the butter, sugar, honey, egg and vanilla extract. Add the buttermilk and mix until combined. Add the dry ingredients and mix until just combined – make sure not to overmix.
Spoon the batter into a piping bag fitted with a round tip and pipe into a greased doughnut pan. Bake at 200C for 7 minutes. Cool for 1 minute in the pan, then flip the pan over to remove the doughnuts and cool completely on a wire rack.
Make the glaze: Whisk together 1 tablespoon half and half cream and the vanilla extract. Add the confectioner's sugar and whisk until fully combined. If the glaze is too thick, add a dash more whipping cream. Divide the glaze into 4 bowls. Leave one bowl white and dye the remaining deep shades of pink, blue and purple. Dollop the 4 colours into a bowl, swirling them together to create a swirly pattern.
Dunk the doughnuts into the glaze and return to the wire rack. Sprinkle some edible glitter on top. Allow the glaze to dry for 20 minutes, and enjoy!